Snowshoeing is one of Fukushima's main winter activities. Easy to access within the prefecture, Urabandai is a particularly popular spot. And not just for snowshoeing! This is a perfect way to enjoy a 2-day-1-night winter trip to the mountainous Urabandai area.
Day 1

The season is at its peak! Time for smelt fishing at Lake Hibara
Smelt fishing domes all lined up
It takes about an hour to get to Koriyama station from Tokyo Station, and then about another hour by car to get to Lake Hibara, the largest lake in the heart of the Bandai Highlands. When the lake freezes over, the snow accumulates on top and its surface becomes completely white. Dotted along the lake there were dome-shaped tents used for fishing wakisagi, Japanese smelt fish. While we waited for the lake guide, a snowmobile came to pick us up. Under a cloudless sky, the snow looked sparkling and radiant. We climbed onto a wooden sled pulled by the snowmobile. We arrived at the middle of Lake Hibara! Deep in the distance I could see Mount Bandai.
First time smelt fishing in a dome
There's a stove in the dome used for smelt fishing. It's cozy and warm. I felt a little reluctant threading the fishing line with the insects we used as bait, but, other than that, it was very easy. I dropped the 5-step hook with bait into the hole and waited. Moving your hand with a "1, 2, 3" rhythm while waiting is said to lure the fish. Apparently, the smelt fish won't come close otherwise. Once I caught a fish, the hook began to sway a little differently. At this point, I immediately reeled in the line about 10 cm using the electric reel. It looked easy, but you're supposed to follow a certain rhythm, which made it somewhat tricky. Reeling the line in only to see no fish was disappointing… Just then, the line wobbled with a little shake, I tried and pulled it up... I had caught one! At the lowest hook there was a glittering little smelt! Was it beginner's luck? I got my first catch. After that, everyone else caught one too! Now, it was time for a big catch!
Even though we weren't doing too badly, after a while we still hadn't caught much. An experienced fisher who once caught 2000 fish in a day came over and kindly offered some advice. Yet, we still weren't able to catch that much. During the smelt fish breeding season, female fish carrying the eggs don't have much of an appetite. That's why it's difficult to catch much compared to January and March, although a skilled fisherman is said to still be able to catch about 100 fish a day. Apparently, the catch is also much more delicious… Let's hurry up and eat! ---
[ Smelt fishing at Lake Hibara ]
You can make a reservation at the smelt fishing facility in advance. For an overview of the facility, fees and rental equipment, please check the Urabandai Tourism Association website.
Urabandai Tourism Association
Let's tuck into the smelt fish we caught!
When we went out of the smelt fishing dome in the afternoon, the weather had changed and the landscape looked completely white! There was a blizzard. We went to the Morikawa guesthouse and entered the kitchen, where they cooked the smelt we brought. Hot out of the fryer, it's was crispy and melted in my mouth. I hadn't expected it to be so delicious. To be honest, the smelt fish I'd had before tasted a little bit bitter, so I thought that it usually tasted that way. I was surprised that it could be this sweet, even after being fried! Freshly caught smelt fish is so delicious, we finished it all in the blink of an eye. Spot Information Guide
Smelt fishing facility・Japanese Guesthouse Morikawa
Address:

552 Kitashiobara Village, Wasedazawa, Hibara

URL:
A cup of coffee that communicates the ideas of young local roasters
After filling up on the delicious smelt, we headed to formerly MOTO COFFEE (now known as Rotten Row Coffee Roasters) for some delicious hand drip coffee that is roasted and brewed in-house. The coffee house is in a log cabin and has a cute sign outside—if you pass by, you will certainly feel the urge to go inside. Upon entering the shop, I saw a large coffee roasting machine and a wide kitchen area. As we headed to the second floor of the cafe, the floating aroma of coffee enveloped us. If you sit facing the large window, you can contemplate the beautiful snowy landscape and even see Mount Bandai far in the distance.
In the relaxing atmosphere of the cozy shop, the aroma of coffee from Ethiopia felt fruity and slightly sweet. It was interesting to enjoy a fruity coffee from a warm country while contemplating the snowy landscape out the window. I want to stop by this coffee shop again next time I visit Urabandai. (Lower right) The shop also sells an exclusive selection of coffee beans.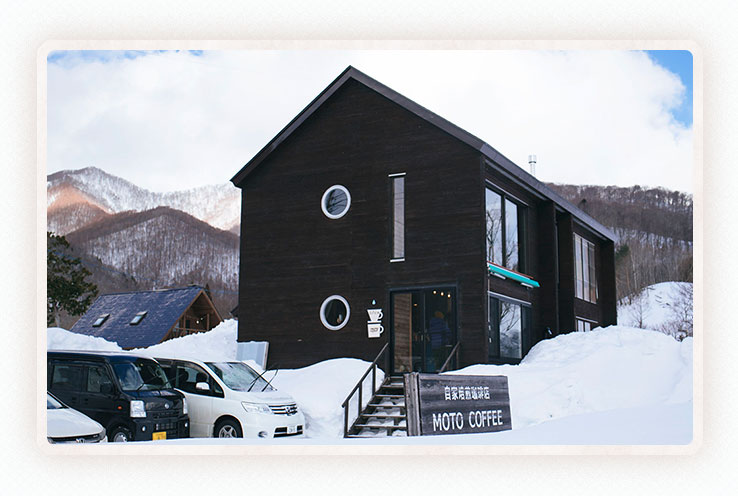 Spot Information
Rotten Row Coffee Roasters
Address:

Kitashiobura, Jinkurosawayama, Hibara 1097-125

Website:
Day 2

Heading to the mysterious yellow frozen waterfall that can only be seen during winter!
We got on the lift and put on our snowshoes.
It was morning time, and the sky looked subtle covered by a few clouds. Today we would finally snowshoe to the ephemeral Yellow Falls. I hoped for fair weather as we departed from the hotel.
First, we met the local guide who was waiting for us at the Urabandai Visitor Center. After renting snowshoes at the visitor center, we headed towards the Urabandai ski slopes and it started snowing!After renting snowshoes at the visitor center, we headed towards the Urabandai ski slopes and it started snowing! I wondered what would happen.
We knew that as we went higher, the temperature would drop considerably, so we took complete countermeasures against the cold. We got on the lift!
Feeling the cool breeze on my cheeks while looking over the pure white ski slopes felt amazing. As we got off the second lift, it stopped snowing. I could make out the silhouettes of Mount Bandai and Mount Kushigamine faintly in the background. I hadn't snowshoed in a while, so I was relieved when the guide explained how to put on the snowshoes. We were off to a safe start! It had snowed the previous night, so the area glittered with fresh snow. The feeling of firmly stepping onto the fresh snow was satisfying.
While walking, we saw a field of snowcapped tree cones. The cones looked like they had little cotton hats on."So cute!"
"These cones are from the Japanese alder tree (miyamannoki). They're snowcapped after yesterday's snow.It's the first time I see them like this, too." The guide also seemed to be interested in them.
The guide explained that, although many would think that during winter in the mountains plants are in a state of hibernation, there are also some pretty unique views that can only be seen in winter. In a pure white landscape, small, cute berries, like those of the Oriental Bittersweet vine (tsuruumemodoki), stand out. (Upper left) Being on the lift was fun, but I felt nervous about getting off.
(Upper right)The cute Japanese alder tree cones in the snow.
(Lower) As long as you wear them properly, snowshoes can be very convenient.
It was fun to look closely around and discover little things like that. Since have to walk slower than usual while snowshoeing, you can find details you wouldn't notice otherwise. The guide was friendly and answered all our questions with a smile. The explanations, more than just being polite, were accurate and very easy to understand—it was like a masterclass about forests. (Lower) When you touch the trunk of a tree, you can feel that there are warm trees and cold trees.
After about 20 minutes of walking, we arrived at the completely frozen Akanuma Pond. Walking on the frozen pond felt a little thrilling when I thought of how different it looks like during the summer, when you obviously can't walk on it. We were told that there were fumaroles towards the mountains on the right side. I felt as if I could feel the breath of Mount Bandai, which is an active volcano. Once we crossed the Akanuma Pond, there was a blizzard. Mount Bandai, which we could see in front of us, faded gradually out of sight. The whole scene was beautiful, like an ink wash painting. We made it to the Yellow Falls!
We crossed a large belt of rocks which cannot be crossed during the summer. After that, there was less snow and it was easier to continue walking.
"Wow! I can see the blue sky!" When I looked up, I could see the blue sky.Just a little bit more to go until we reach the Yellow Falls! Would the sky be clear once we arrived? Somehow this hope kept me moving forward steadily. "Can you see it? Right there, that yellow thing…" I looked to where the guide was pointing… I could see what looked like a yellow wall!
"Yes! I can see it!", I said. Just a little bit more to go!
Once I saw the destination, my footsteps seemed to become lighter. As we drew closer and closer to the yellow waterfall, my chest was pounding with excitement.
We finally arrived at the Yellow Falls! They were more impressive than I had imagined—their mysterious golden color was stunning! There wasn't a waterfall here originally, but little by little, water containing iron began to spring up and freeze into a golden color, becoming this mysterious gift of nature.
Unless it's really cold, it doesn't freeze over this splendidly. The size differs each year.
"This year it looks particularly marvelous!", the guide said. Up close, I could appreciate its mystical angularity. It was pretty… almost similar to beeswax. After we took a commemorative photo, the guide dug up a table and chairs out of snow. Taking a little break while watching the Yellow Falls was beyond amazing! We took out the famous Fukushima sweets "Mamador" that we had bought at the train station. It just so happened that the guide had brought the same cakes, only chocolate flavored ones. We indulged in a tea party with the two kinds of "Mamador" cakes. I took a sip, and wanted to cry as the warmth from the hot drink warmed me up. I was freezing! (Lower left) "Mamador" is a famous confection from Fukushima, made with a wrapped and baked dough and a milk flavored bean paste filling.
Going back while enjoying the fun of the winter mountains.
Mr. Igarashi suggested that on the way back we passed through the forest.
Coincidentally, at the exact moment we left the Yellow Falls, it started snowing again. It felt as if the snow had held on up until we returned. I thanked the gods of Urabandai mountains for the clear skies up until then! As the snow storm came, the guide told us to look at our gloves.
What a pleasant surprise! Tiny snowflakes were dancing and falling around my gloves before disappearing. It was the first time I saw snowflake crystals distinctly with my naked eye. I was a little moved. You can't always discern them like this in the winter—seeing this wonderful phenomenon depends on the temperature and humidity.
Something that looked like a bird's nest on a branch caught my eye. I wondered what it was.
It stood out against the wintery scenery. I asked about it, and the guide told me it was mistletoe. He explained that it's a kind of tree parasite caused by the feces of certain birds (particularly, some types of waxwings). During the summer, you can't easily see the mistletoe, so it's more difficult to notice it, but during the winter it seems like you could almost touch it, and it becomes easier to spot. (Lower right) The mistletoe gives color to the winter forest. It's so big!
While descending down the steep slopes, you can find footprints of animals as you head towards the basin.
"Will we see some footprints today?", asked the guide. I searched for them.
"Ah, there they are!" The guide pointed somewhere—certainly, there were some footprints! (Left middle)We tried to figure out which animal could've left those footprints, which disappeared deep into the forest.
I wondered what animal they belonged to. There seemed to be some hints. Are they small? Big? Are they zigzagging? The guide, like a great detective of the forest, taught me how to tell what animal those footprints belonged to. They were the footprints of a fox.
More than simply enjoying a walk in a snowy forest, the guide showed us its many joys, such as sucking into icicles, or diving full-body into the snow. Without a doubt, spending a full day in the snowy mountains helps you forget the exhaustion of everyday life. By the time we got back to the Akanuma pond, we could see that the sky had completely cleared up. Even more, the sun was gleaming brightly! Behind us, the lines of the mountain ridge were clearly visible. Could this be our final reward? Before the getting on the lift, we high-fived with our guide for reaching our goal, and we descended the mountain. You can also check here for an introduction to the climbing course and information about sightseeing in hiking trails in Urabandai.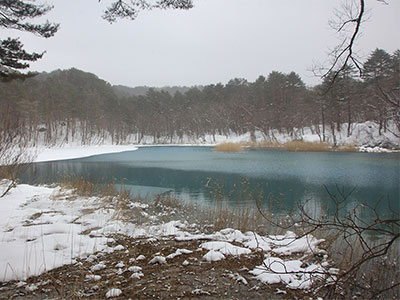 Aizu area
Urabandai Goshiki-numa Ponds Trail
Toasty tomato ramen warmed my cold body right up! When we came back from the mountain, we were exhausted and hungry. We sat down for a hearty bowl of ramen at Yamanoeki Shokudo. Ramen with mountain salt (yama shio), made from the mountain springs, is a famous product from Urabandai. Apart from mountain salt ramen, there is also a popular hearty tomato ramen. If you add cheese to it, it becomes a little spicier and Western in flavor. It was so delicious! The menu had original ramen options with unusual ingredients, like tomato or lemon, apart from the famous "mountain salt" ramen. The manager of restaurant is a bright and cheerful woman, so I guess her personality is one of the reasons this restaurant is so popular.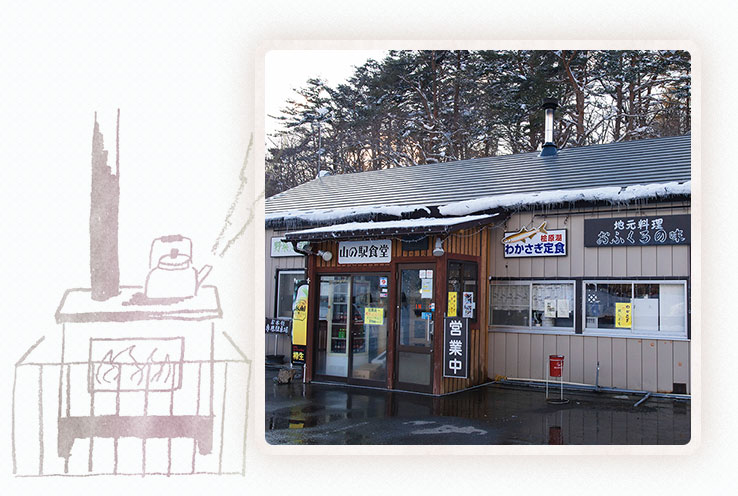 Spot Information
Yamanoeki Shokudo
Address:

7082-1 Yamakamihara, Inawashiro Town, Yama District, Fukushima
Finish your trip soaking in the hot spring waters of Bandai-Atami
We simply had to conclude our trip to the Urabandai region with a visit to the onsen (Japanese hot springs). On the way back to Koriyama station, we went towards Bandai Atami, a hot spring town.
I was charmed at the idea of discovering a hidden gem that not many people go to. We finally made it to the communal bath house "Reisen" Yumoto Motoyu. As the day ended, the quiet onsen alley was lit up with red lamps which had an inviting glow. Before even entering, we could already feel its appeal. A smiling man greeted us with an "Irasshai!", which means "welcome". Our hearts had already softened before we even entered the hot springs.
It was a little after 4 p.m., and we headed into the hot springs bath. The bathing room was simple-looking. The dressing room was delightfully clean and tidy (it seemed like it had been recently remodeled). When I entered, some locals showed me how to use the shower and how to enter the bath. There were two baths. One was extremely hot, and the other one was lukewarm.First, you're supposed to enter the extremely hot bath until you sweat, and after that you go into the lukewarm bath. The locals did this for about an hour. I dipped my foot into the hot bath… it was indeed very hot! The water felt almost boiling, but I persisted until it gradually warmed up my body and felt pleasant.
After a while, I entered the lukewarm bath. At first, it felt like room-temperature water. After some time, I could feel that it's actually lukewarm. It's strange how perception changes as your body gets used to it. The onsen pulls water directly from the natural spring. The hot bath is 51°C (124°F), the lukewarm one is 33°C (91°F). What makes the spring waters of Bandai-Atami unique is that they are said to be effective against skin conditions like atopic dermatitis.
I wasn't too surprised that I couldn't do the full hour. When I came out, however, I was pleasantly warm. The person at the counter bid us farewell with a smile, and once again we headed back to Koriyama.
When I look back on that trip to Urabandai, from the smelt fishing to the snowshoeing, the fun times spent enjoying the winter crystallize in my mind. More than anything, I treasure the memory of all the friendly people I met over those two days.
Tohoku, the Northern region of the main island of Japan, does have cold winters — but that's not all there is to it. There's enjoyment waiting in the cold, windy outdoors, and warm people who will make you feel welcome.
You should most definitely visit the amazing Urabandai region!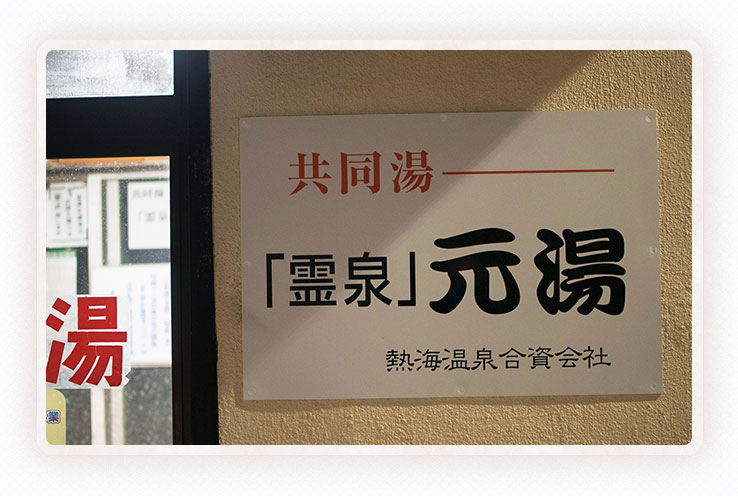 Spot information
Bandai Atami Onsen Yumoto Motoyu
Address:

4-22 Atami, Atami Town, Koriyama City

URL:
Spot highlight
Urabandai Rising Sun Hotel
Located between Lake Hibara and Lake Onogawa, the hotel faces the Otomenuma Marsh, and is the ideal location for snowshoeing and smelt fishing. The rooms are spacious and comfortable and the rates are very reasonable.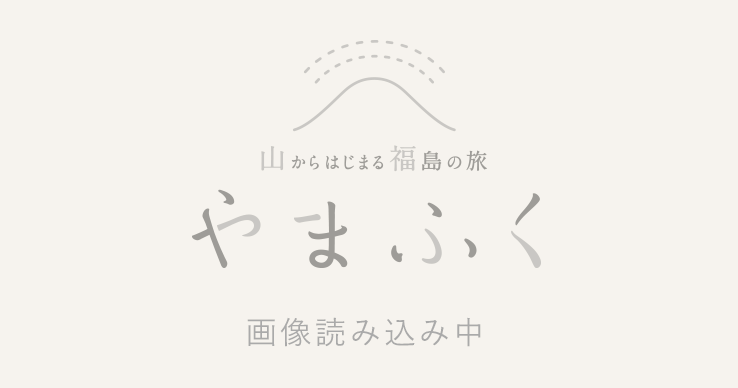 Urabandai Ski Slopes
This is a small ski area, and the snow is of excellent quality. Its beginner-friendly slopes for families make these ski slopes unique. It's also a convenient location from which to access the Yellow Falls by ski lift. Snowshoe rental is also available.
1170-5 Oobu Hirayama, Hibara, Kitashiobara Village
Closed: Please be sure to check about the business holidays in advance.
Urabandai Ski Slopes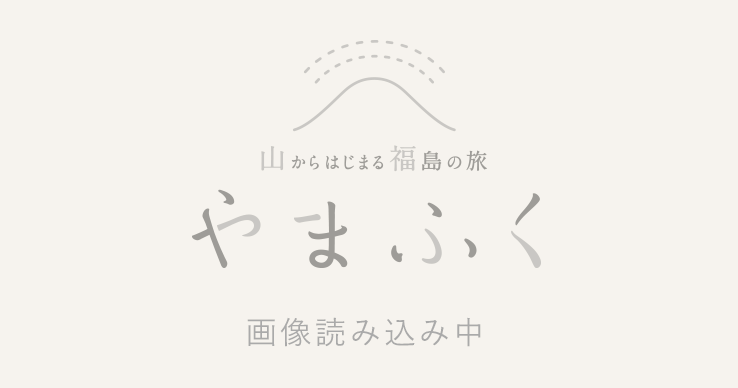 Urabandai Visitor Center
Located at the eastern part of the Goshiki-numa Ponds Trail, this facility displays information about the nature of Urabandai. They also offer a snowshoe rental service, but please be aware that they have a limited amount of snowshoes available for rental.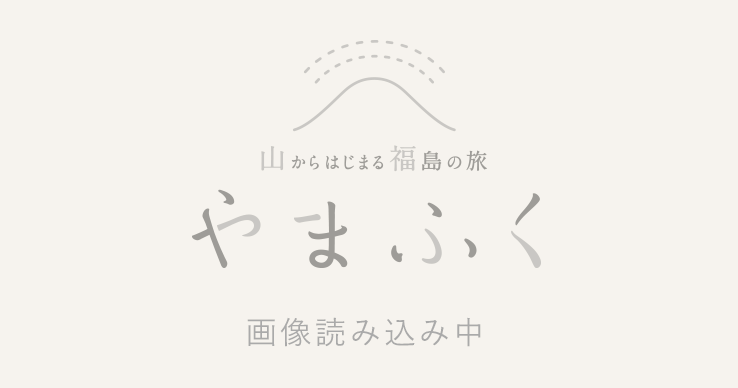 Spot Map