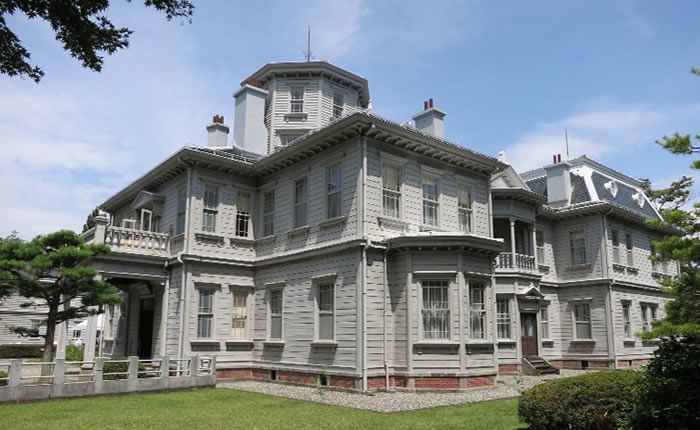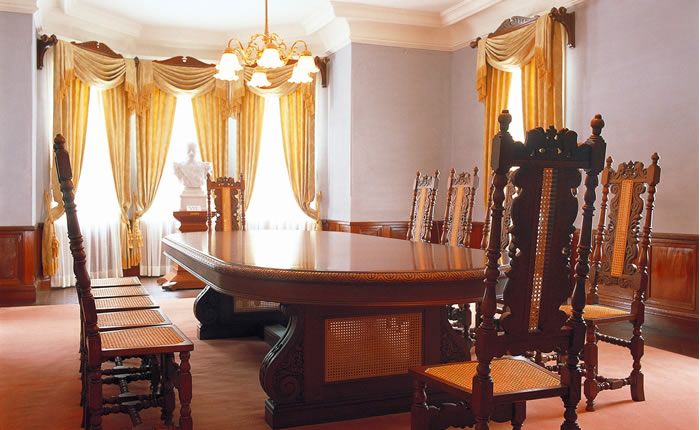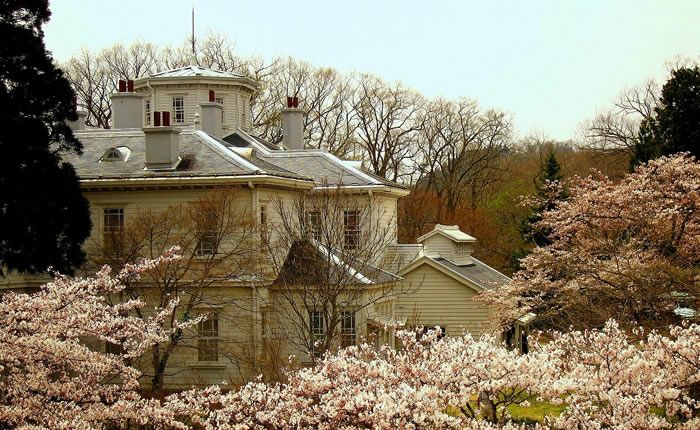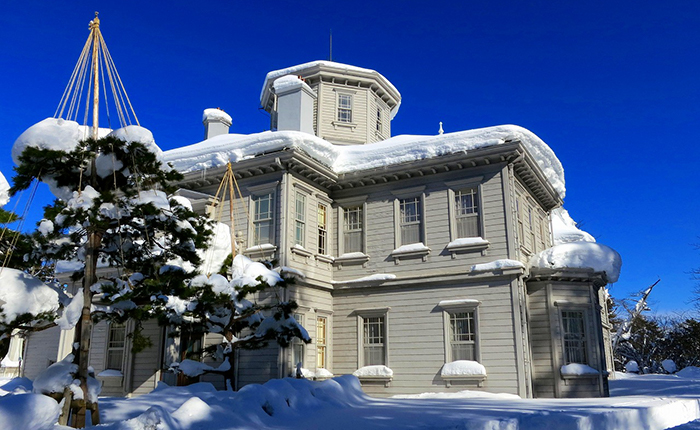 Nationally Designated Important Cultural Property
Tenkyokaku
this Western-style building was built by Prince Arisugawa Takehito, and named by the emperor of the Taisho period.
Tenkyokaku
News/Event Information
Tenkyokaku news corner.
Please wait for new news items to arrive.
About Tenkyokaku
Beloved by the Imperial Household: the shores of Lake Inawashiro
In August 1907, Prince Arisugawa Takehito visited Lake Inawashiro on a trip to the Tohoku region. He was so impressed by the beauty of its landscape that he decided to build a vacation residence there. Construction was completed in August 1908. During the following September, Prince Yoshihito – the Emperor of the Taisho Period (1912-1926) – made an official visit and named the residence "Tenkyokaku". The name "Tenkyokaku" (which literally translates as "The palace of heaven's mirror") was inspired by a line in a poem by Li Bai, where the poet refers to a lake appearing as a heavenly mirror. In December 1952, Prince Takamatsu Nobuhito gave the residence to Fukushima Prefecture. Fukushima Prefecture used to hold meetings and lectures in Tenkyokaku, but this was discontinued in April 1971 due to building restorations becoming necessary.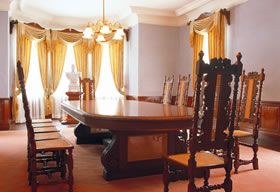 On becoming a Nationally Designated Important Cultural Property
In February 1979, the main building, annex, and front gate of Tenkyokaku were designated by Japan as Important Cultural Properties. In September 1982, restoration construction was completed, and in July 1984, a statue of Prince Arisugawa Takehito was moved from Tsukiji in Tokyo to Tenkyokaku. In more recent years, the Emperor and Empress of the Showa Period (1926-1989) and Crown Prince Naruhito have visited Tenkyokaku during visits to the prefecture.
Facilities
Tenkyokaku gallery
*Slide click for details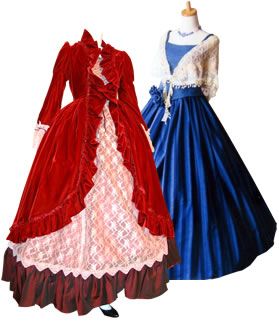 Experience wearing Meiji-style dresses
Enjoy wearing a Meiji-style dress or dress made from Aizu cotton while touring the building and taking commemorative photos.
Cost

Per person ¥1,000 (women only)
*Dresses for children are also available.
Hours of operation

10:00~16:00
4.10 ~ 11.23
Royal Tea & Sweets
The guest dining room is open as a tea room.
Spend time in an elegant space enjoying original teas and seasonal sweets.
For details please see Tenkyokaku Gourmet
Cost

¥830 per person
Hours of operation

10:00~15:30
4.10 ~ 11.23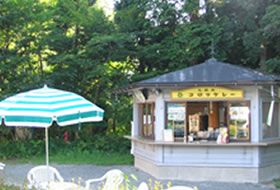 Tenkyokaku garden light dining corner
Try Tenkyokaku Curry or the Tenkyokaku Curry Croquette among other original Tenkyokaku dishes.
For details please seeTenkyokaku Gourmet
Entrance
Hours of operation

(Open year round)




May - October

: 8:30 a.m. - 5 p.m


November - April

: 9 a.m. - 4:30 p.m.
[Entrance fee]

(taxes included)

| Category | General admission | High school students | Elementary/Junior high school students |
| --- | --- | --- | --- |
| Individuals | ¥370 | ¥210 | ¥100 |
| Groups (20 people or more) | ¥320 | ¥160 | ¥80 |
[For customers in wheelchairs]

Customers in wheelchairs can enter the garden in their own wheelchairs. Please inquire at the reception desk in the main building.
[AED(Automatic External Defibrillator)]

Located at the Tenkyokaku reception desk.
Access to Tenkyokaku
Nationally Designated Important Cultural Property Tenkyokaku
1048 Gotenyama Okinasawa, Inawashiro Town, Yama County, Fukushima Prefecture 969-3285
Get off the Ban'etsu West Line at Inawashiro Station. From the station, take the Bandai Toto Bus heading for Kin-no-Hashi, Aizu Recreation Koen. Get off at the Nagahama bus stop. The bus journey takes approximately 15 minutes. From Nagashima bus stop. Tenkyokaku is a 5-minute walk.
≪From Tokyo or Miyagi≫

Take the Ban'etsu Expressway and exit at Inawashiro Bandai-Kogen I.C. Then take National Route 49 towards Aizuwakamatsu for approximately 8 km.
≪From Niigata≫

Take the Ban'etsu Expressway and exit at Bandai-Kawahigashi I.C. Then take National Route 49 toward Koriyama for approximately 11 km.